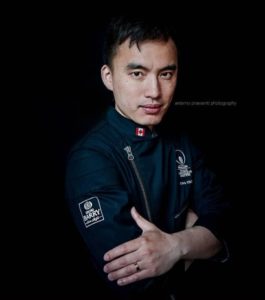 World Chocolate Master – Canada Winner 2017
Culinary Olympic – Silver Medal 2016
Salon Culinaire Mondial 2013 – Gold Medal

Born in a culinary family, Chris has developed a natural sense and passion for food and flavour. Growing up in his father's restaurant inspired and encouraged him to become a professional chef. His interest in desserts and pastries allowed him to travel and work in various hotels and fine dining restaurants from coast to coast across Canada.

As one of the top Canadian chocolatiers and pastry chefs, Chris shares his passion and story through his unique and innovative culinary skills. He believes in the perfect harmony of simple but elevated and creative yet exciting food and his work are famous for their delicate yet strong character.
Now settled in Markham and Toronto area, CHO-KWOK-LAT is where you can join him and enjoy his beautiful chocolates and pastries!

Call us at : 905 554 0545
Email us at: info@chokwoklat.com